On the eve of the Rite Aid (RAD) tallying votes for its merger with Albertsons, the drug store scuttled the deal. The news, along with downgrades and warnings from Moody's, sent the stock down nearly 20 percent on the week. Is the selling overdone?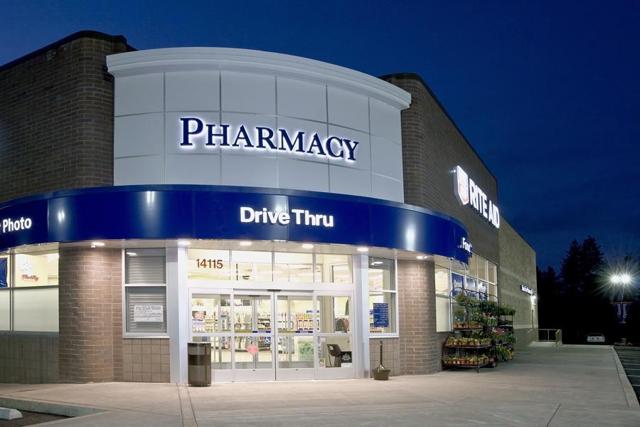 These bearish reports against Rite Aid do not recognize that the future value on the RAD-Albertsons firm would have been worth even less. The combined firms would have had competition from multiple fronts: from supermarkets like Walmart (WMT) and Kroger (KR) to drug stores like Walgreens (WBA) and Amazon.com (AMZN), through the latter's online ambitions. Now that Rite Aid is on its own again, what will it take for the stock to get to my fair value of $2.00 a share, a forecast that assumed shareholders would reject the deal.
Removing management
Rite Aid's management will re-visit its options in October, a full two months from now. The current management and oversight committee (board of directors) still have only two things on their mind: selling the company and finding a grocery chain partner to turn the business around. Rite Aid needs new, fresh leadership. It needs a leadership team that will revitalize the store sales, organically. Accelerating the expansion of RediClinics at all stores would do just that. The reason is simple: it is upselling services to existing customers.
Customers always need support for minor illnesses, preventive care, and travel health services. These offerings are available at competing stores but Rite Aid already has the real estate locations and staff to grow this offering. Amazon.com cannot in any way offer the same level of care for customers: the online giant may only compete on price. Conversely, Rite Aid would become a one-stop shop for the three above-mentioned services.
As SA user Catalyst7 wrote in the comments, naturopathic products like minerals, vitamins, and supplements may have higher profitability than prescriptions. Besides, CVS (CVS) and Walgreens could compete effectively against Rite Aid in this space. Although it is a stretch, Nutrisystem (NTRI) is the kind of approach Rite Aid could approach in improving the lives of its customers. Nutrisystem sells eating plans at a daily rate of between $10.18-$13.93 a day to that help customers lose weight.
The sooner Rite Aid identifies its niche in the drug store space, the faster it will reverse EBITDA deterioration. If the company had a "Plan B" that prepared for the merger not going through, it would not have lowered its adjusted EBITDA from the $615 million-$675 million range down to the $540 million-$590 million range.
Below: NTRI stock on the rebound since April.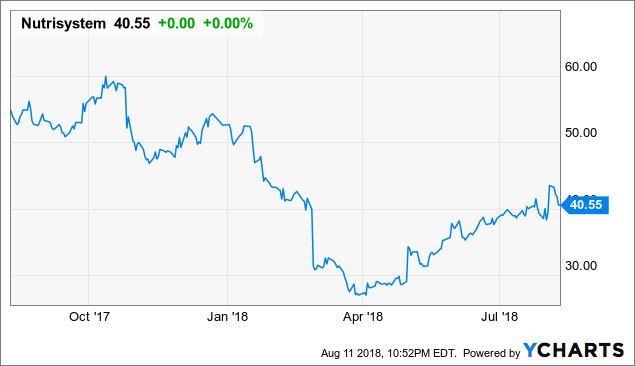 Rite Aid's stock is down 24.9 percent while CVS and Walgreens are down by less.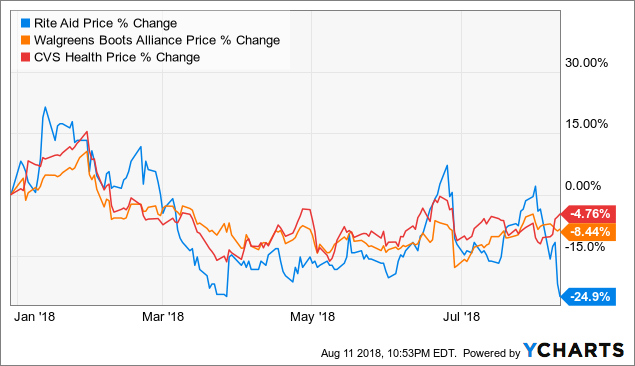 Valuation
Walgreens completed the purchase of 1,932 stores for around $2.2 million a store. Albertsons would have acquired the 2,500 stores left at Rite Aid for under $1 million. At the midpoint of $1.6 million, Rite Aid's stores would be worth $4 billion, compared to its $1.62 billion market cap (at $1.48 a share). With markets valuing the stores at a considerable discount, management has a low bar to clear for realizing profitability from each and every store.
Simply Wall St., which may not have updated its financial model with the lowered EBITDA forecast, believes RAD's stock is worth $3.98 based on future cash flow:

Source: Simply Wall St.
Thanks to the sale of drug stores to Walgreens, Rite Aid substantially cut its debt by more than half: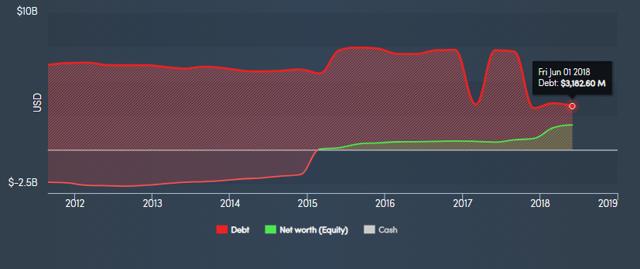 Source: Simply Wall St.
Moody's warning on a negative default credit is unusually timed. The drug store is better off without Albertsons and has a better debt profile on its own. It now needs to grow operating cash flow to service and to reduce the debt levels.
Buy More RAD Shares?
Investors deep underwater on Rite Aid could double-down on RAD's stock to lower the average cost, but this could prove risky. Unless the company demonstrates it is turning around the business in the next 2-3 quarters, the stock could move nowhere or worse, fall to the $1.00 level predicted by bearish analysts. Other analysts have not yet updated their view on the stock. The average price target, based on two analysts, is $2.05 a share, implying upside of $38.51. Here is the full position call from six analysts:

Source: tipranks
Your Takeaway
Investors who held the stock to vote against the deal have little to lose at this point. A management shuffle and strategic change in the company's direction could bring the stock back to the $2.00 level and above.
Please [+]Follow me for value stocks on sale. Click on the big "follow" button beside my avatar.
Disclosure: I/we have no positions in any stocks mentioned, and no plans to initiate any positions within the next 72 hours.
I wrote this article myself, and it expresses my own opinions. I am not receiving compensation for it (other than from Seeking Alpha). I have no business relationship with any company whose stock is mentioned in this article.