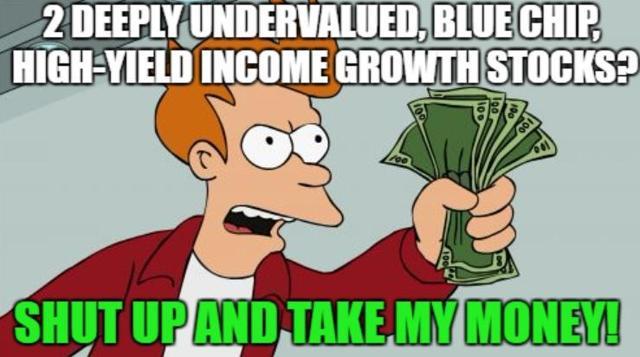 Source: imgflip
The goal of my high-yield retirement portfolio is to find great high-yield stocks, with strong growth prospects, trading at deeply undervalued levels. Well, today is a golden age for investors like me, because income stocks, especially midstream MLPs, have been hammered relentlessly for months.
That even applies to gold standard industry blue chips such as Enbridge Inc (ENB) and Spectra Energy Partners (SEP). In fact Spectra's yield is the highest it's been since the financial crisis.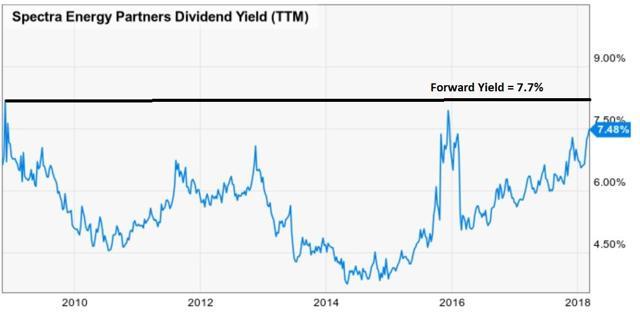 Source: Ycharts
And Enbridge's yield is even more ridiculous, recently hitting a 23 year high.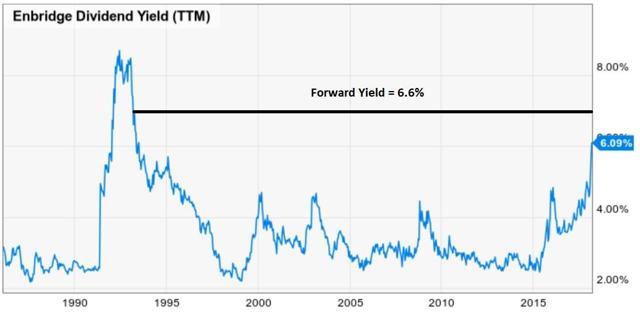 Source: Ycharts
Let's take a look at why the market is dead wrong about these two high-yield sleep well at night, or SWAN, stocks. Specifically, let's discover why both are likely to offer generous, safe, and steadily rising incomes for years or even decades to come.
That makes them excellent choices for low risk investors, including retirees looking to live off dividends. But better yet? Both of these stocks are also strong candidates for growth investors, because at today's insanely low valuations both are likely to crush the market over the next decade.
Enbridge: The Berkshire Of Midstream And A Future Dividend Aristocrat
Enbridge is one of North America's largest and oldest (founded in 1949), midstream energy companies. Its network of oil amd gas gathering, storage, processing, and transportation systems connect the continent's most vital oil and gas producing regions.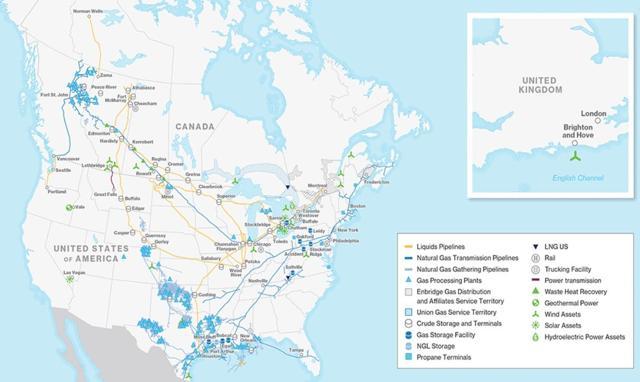 Source: Enbridge Investor Presentation
Enbridge's network moves 20% of all US natural gas, and its oil pipelines transport 65% of all Canadian oil imported into this country. That's because Enbridge's owns the Canadian Mainline pipeline system.
This system: transports 70% of Canadian oil, has a capacity of 2.85 million barrels per day, and is connected to a 3.5 million barrels per day of refining capacity across North America.
Enbridge is a vast conglomerate with numerous subsidiary funds and ownership stakes in other MLPs, including Spectra Energy Partners.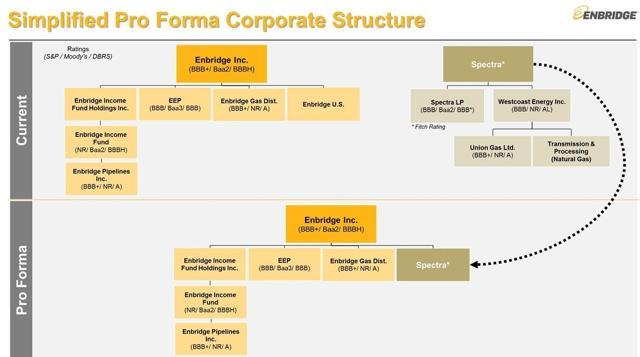 Source: Enbridge Investor Presentations
Enbridge acquired Spectra Energy for $22 billion in 2016 in order to gain access to its vast network of American gas pipelines. Spectra also brought with it diversification in the form of several utilities that added to Enbridge's own regulated gas network.
Specifically Enbridge is now Canada's largest natural gas utility, serving 3.5 million customers in Central and Eastern Ontario, Quebec, New Brunswick, and Northern New York State.
The company has also been aggressively investing in renewable energy as well, in anticipation of the world transitioning to green power.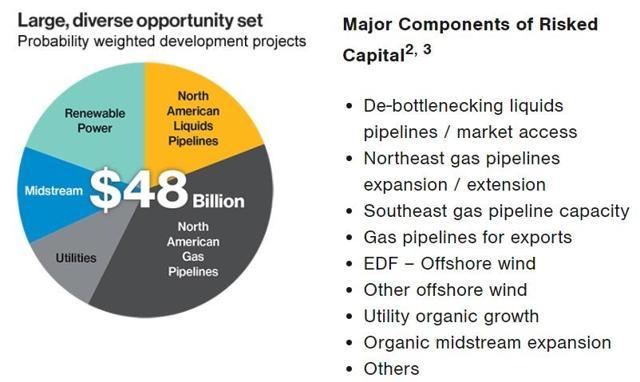 Source: Enbridge Investor Presentation
The beautiful thing about Enbridge's business model is that it's a wonderful source of highly recurring revenue. That's because Enbridge's assets are all wide moat, owing to the long time, (usually three years), and high expense, (up to $8 billion), to constructure new pipelines.
Enbridge essentially serves as an energy toll booth operator, with highly secure cash flows secured by very long-term (up to 25 years), fixed-fee, inflation adjusted contracts.

Source: Enbridge Investor Presentation
Only 4% of its cash flow is sensitive to commodity prices, and 93% of its counter parties are large, investment grade counter parties. This basically means that even in the worst oil crash in over 50 years (76% decline in crude prices), Enbridge was never at significant risk of customers defaulting on contracted payments.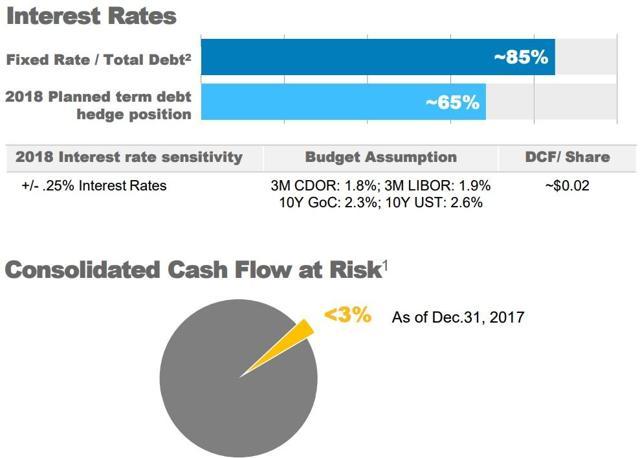 Source: Enbridge Investor Presentation
Enbridge is also very good at hedging its exposure to rising interest rates. 85% of its debt is fixed rate and thanks to its very strong credit rating, (tied for the highest in the industry), it can borrow at an average rate of 3.9%. Management estimates that for each 1% increase in 10 year treasury yields its distributable cash flow (midstream equivalent of free cash flow and what funds the payout) per share would decline by about 2%.
This kind of strong, stable, and commodity/interest rate insensitive cash flow is what has allowed Enbridge to raise its dividends 23 consecutive years (including the recent 10% hike for 2018).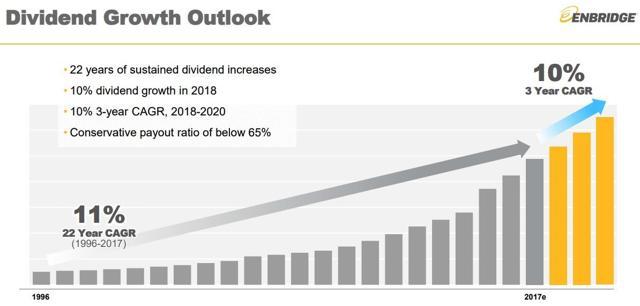 Source: Enbridge Investor Presentation
And with management planning on 10% growth through 2020, that means that Enbridge is set to become a dividend aristocrat in two years time.
However what really gets me excited about Enbridge is not just its strong short-term payout potential. The biggest reason for owning Enbridge is because of the potential decades long growth runway.
Strong Growth In 2017 With Excellent Long-Term Growth Prospects
2017 was a huge growth year for Enbridge. That was thanks to the closing of the Spectra merger. That acquisition boosted Enbridge's total growth backlog to $27 billion, $9.7 billion of which was put in service in 2017.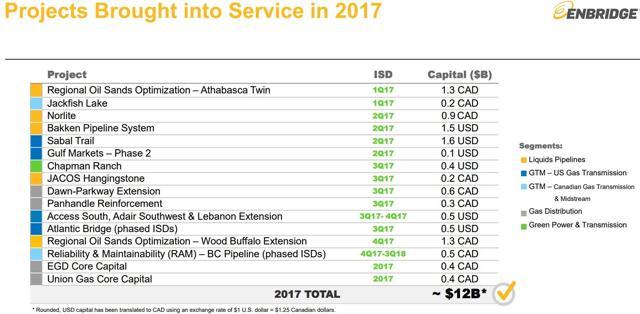 Source: Enbridge Investor Presentation, note figures in CAD
This led to very impressive top line growth, which allowed management to increase the dividend by 15%.
| | |
| --- | --- |
| Metric | 2017 Growth (Except For Coverage Ratio) |
| Distributable Cash Flow | 51.2% |
| Shares Outstanding | 67.4% |
| DCF/share | -9.7% |
| Dividend | 13.7% |
| Dividend Coverage Ratio | 1.53 |
Source: earnings release, Gurufocus
Note that Enbridge's DCF/share actually declined due to the large number of shares issued to acquire Spectra (it was an all stock deal). However, the company still managed to maintain one of the highest payout coverage ratios in the industry, and retained 35% of its cash flow.
Most midstream operators payout 80% to 90% of distributable cash flow (which Enbridge calls adjusted cash from operations or ACFFO). Enbridge has a long-term goal of paying out just 55% to 65% of DCF. This not only creates some of the best dividend safety in the industry, but also allows it to fund more of its growth internally. It also lowers the amount of debt and equity capital needed and thus creates lower costs of capital and more profitable investments.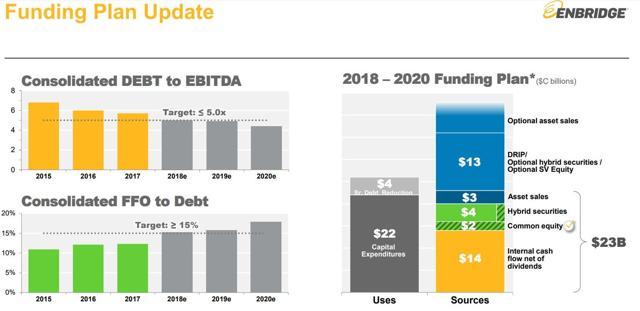 Source: Enbridge Investor Presentation
2017 was a busy year of capital raising for Enbridge. The company raised a total of $11 billion in capital as part of its three year strategic plan. That means that Enbridge is now confident it has all the capital it needs to complete the remaining $17.6 billion in projects slated to go online by the end of 2020.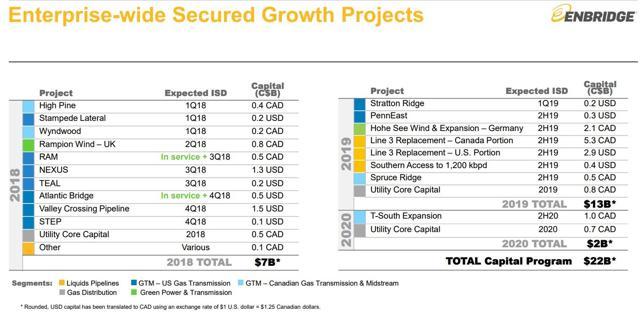 Source: Enbridge Investor Presentation, note figures in CAD
Those projects are expected to boost EBITDA by 21% in 2018 and 9% in 2019. They would further solidify the the company's cash flows in very low risk, regulated industries. More importantly they are why management is confident that it can achieve 10% dividend growth for the next two years.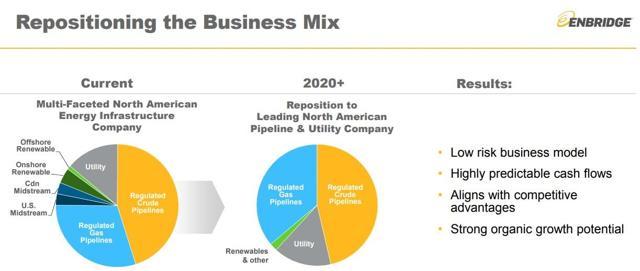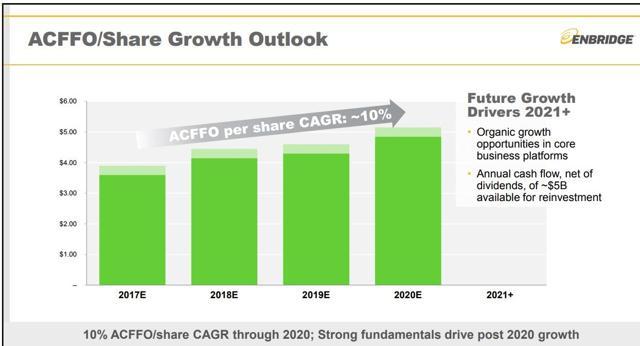 Source: Enbridge Investor Presentation
Beyond 2020 the company also expects to be able to continue growing strongly. This is thanks to two factors. First it expects to be retaining about $5 billion a year in cash flow by then. Second management has already started making preparations for its large "shadow pipeline." These are projects that Enbridge has not yet secured contracts for, but believes represent up to $30 billion in future growth opportunities.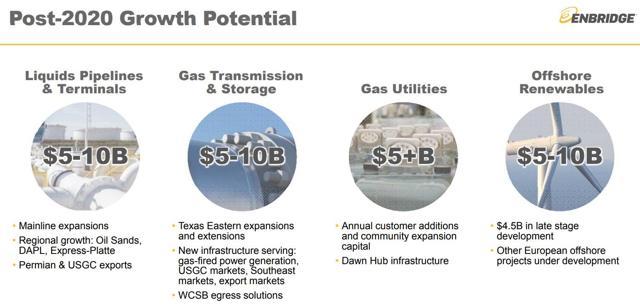 Source: Enbridge Investor Presentation, figures in CAD
And that shadow growth backlog might prove much larger than event management expects. That's because the US energy renaissance is expected to continue for decades.
For example by 2023 the International Energy Agency expects the US to become the world's largest producer of crude oil, condensates and natural gas liquids. That production is projected to rise from 13.2 million barrels per day to 17 million bpd.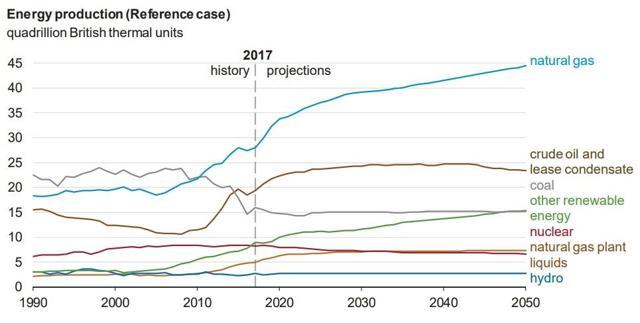 Source: EIA
Meanwhile the US Energy Information Administration expects that U.S. oil and gas production will continue growing strongly for decades. Rising demand for cheap U.S. oil and gas from overseas, especially emerging markets, are expected to lead to a huge boom in U.S. liquified natural gas or LNG exports.
Meanwhile a resurgent U.S. oil export industry is expected to hit 5 million barrels per day by 2023. To put that in perspective at today's oil prices that would equate to $115 billion a year in U.S. crude exports. That would make America the second largest oil exporter behind Saudi Arabia.
Of course none of that production will be possible if there isn't a lot more midstream infrastructure to gather, store, process, and transport all of that extra supply. That's why analyst firm IHS estimates that by 2040 North America will require up to $900 billion in extra midstream investment.
If those projections prove accurate, then it means the entire midstream industry is set for a massive boom in the decades ahead. And as one of the largest, best capitalized, and best managed firms in the industry, Enbridge could be poised for decades of generous, safe, and strong dividend growth.
Spectra Energy Partners: Lowest Risk Business Model In The Industry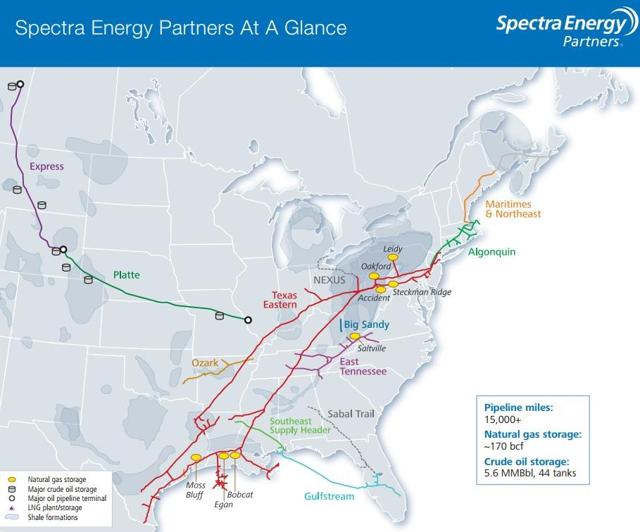 Source: Spectra Energy Partners
Spectra Energy Partners is part of the Enbridge midstream empire. It owns:
170 billion cubic feet of natural gas storage

5.6 million barrels of crude oil storage

approximately 16,000 miles of gas and oil pipelines
These connect producers, consumers, and exporters with some of North America's most important energy regions, including:
The Eagle Ford oil shale formation of Texas

The Marcellus/Utica shale gas fields of Ohio, Pennsylvania, and West Virginia

The tar sands oil reserves of Alberta, Canada (170 billion barrels of proven reserves)
Spectra's most important asset is the Texas Eastern natural gas transmission system which moves 10% of America's gas, and supplies 120 million people in 16 states.
This systems connects fast growing gas production from East Texas and the hyper prolific Marcellus/Utica share with high demand cities in the North East including: Boston, Philadelphia, and New York City. Despite their close proximity to the Marcellus/Utica formations, (Pennsylvania, Ohio, and West Virginia), these cities pay some of the nation's highest gas prices. This creates huge demand pull for new projects that can supply cheaper alternatives.
Spectra's other cash cow is the Gulfstream pipeline system supplying Florida. Specifically it supplies most winter heating needs, and 75% of the the states natural gas power plants. In fact fully 60% of Florida's natural gas flows through Spectra's pipelines. Better yet? The average remaining contract on this system is 13 years, creating truly fantastic cash flow predictability.
Spectra Energy Partners is all about safe and stable cash flows. For example, some MLPs have a relatively large amount of cash flows tied to commodity sensitive business such as natural gas liquids or NGLs. For instance Energy Transfer Partners (ETP) has 20% of its DCF exposed to fluctuations in energy prices.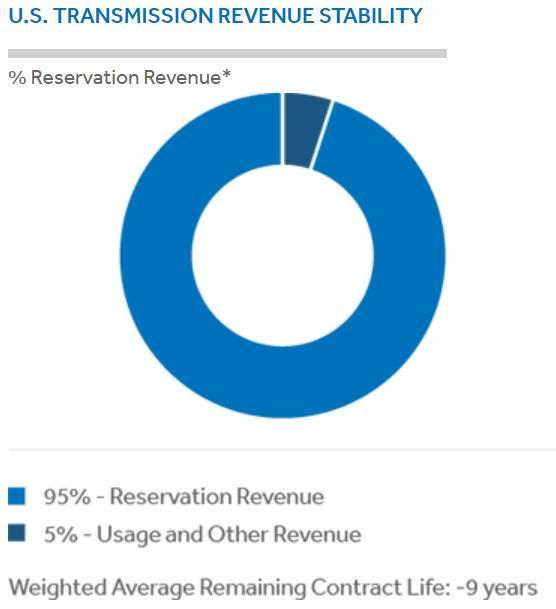 Source: Spectra Energy Partners
Spectra has no such exposure. In other words it's a 100% pure play, fixed-fee business model, with 95% of cash flows under "take or pay" contracts. That means that customers will reserve certain volumes on Spectra's system and Spectra is guaranteed that money, whether or not suppliers actually decide to produce and ship any gas at all. And with a system wide average contract duration of nine years, Spectra enjoys some of the most stable cash flow of any midstream MLP.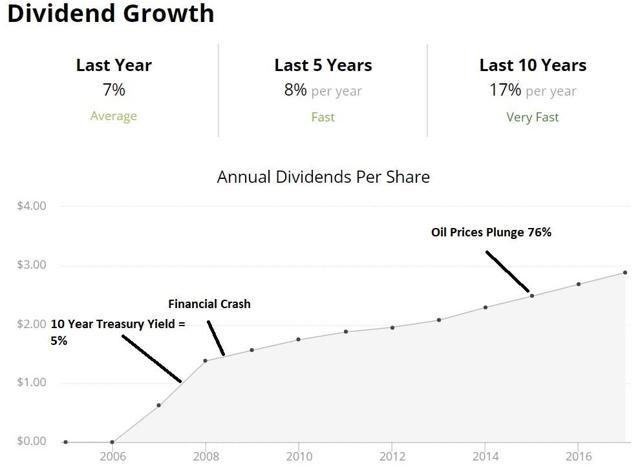 Source: Simply Safe Dividend
That's why Spectra is a dividend achiever, with 41 consecutive quarterly payout increases. This is in all manner of industry, economic, and interest rate environments, which proves that Spectra Energy is a true sleep well at night or SWAN stock.
2017 was a great year for Spectra Energy Partners, thanks to 6 projects totalling $2 billion coming online. This drove significant growth in DCF per unit.
| | |
| --- | --- |
| Metric | 2017 Growth (Except For Coverage Ratio) |
| DCF | 17.3% |
| Units Outstanding | 3.6% |
| DCF/Unit | 13.2% |
| Distribution | 7.6% |
| Distribution Coverage Ratio | 1.20 |
Source: earnings release, earnings supplement, Gurufocus
That allowed management to continue its clockwork like distribution growth while keeping its distribution coverage ratio at the top end of its long-term 1.1 to 1.2 guidance. In the MLP industry 1.1 is considered the bar for sustainable payouts that are capable of growing over time.
Now it should be noted that Spectra and Enbridge just announced a $7.2 billion all equity deal in which Spectra would purchase all of Enbridge's general partner stake, and its incentive distribution rights or IDRs.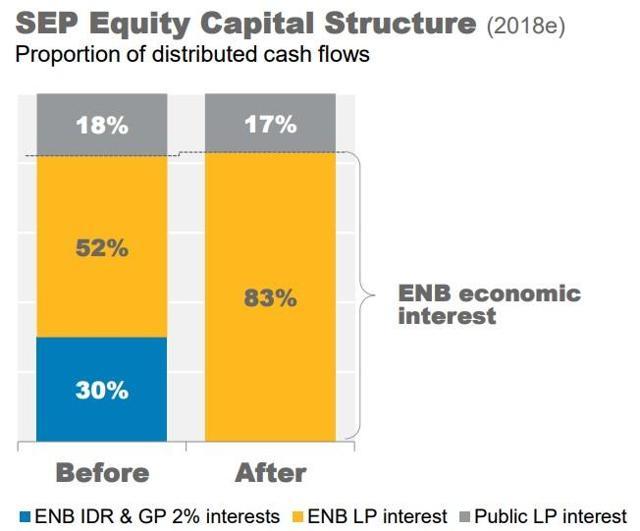 Source: Enbridge Investor Presentation
IDRs mean that 50% of all distributions above a certain amount go to Enbridge, and that payout growth is slower over the long-term. It also means higher costs of capital that limit an MLPs growth potential. That's because if 50% of marginal DCF from a project ends up going to the sponsor, (Enbridge), then management is forced to only invest in very profitable projects with DCF yields above a higher hurdle rate.
Spectra is paying 15.7 times Enbridge's projected $459 million in 2018 IDRs. IDR buyouts and corporate consolidations, (where the GP buys the MLP), have become more common in recent years, with numerous GPs and MLPs taking part, including:
Most buyouts are at between 15 and 20 times forward IDRs, which means that Spectra is getting a very fair deal. That's because Enbridge specifically designed this offer to ensure that the extra 172.5 million units it would receive, (bringing its ownership of SEP to 83%), would not dilute Spectra investors to dangerous levels.
For example the pro-forma coverage ratio, (accounting for higher unit count), is now 1.0. However management has plenty of growth projects coming online in the next two years.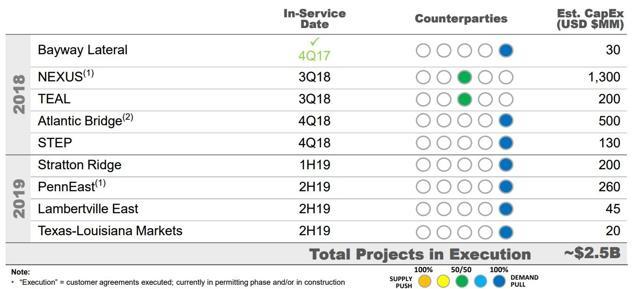 Source: Spectra Energy Partners Investor Presentation
With this additional cash flow, even with the larger share count, management believes that it can achieve 7% distribution growth in 2018, and 4% to 6% through 2020. All while maintaining its long-term targeted coverage ratio of 1.1 to 1.2.
The bottom line is that Spectra Energy Partners represents one of the highest-quality blue chips in this industry. The very conservative management team is laser focused on steady long-term growth of its rock solid cash flows, and in rewarding investors with very dependable income growth.
And like Enbridge Spectra is set to keep growing far beyond 2020. That's because of its overwhelming focus on natural gas transmission systems. That includes demand pull projects contracted with investment grade regulated utilities in major urban areas. Which means Spectra's cash flow enjoys not just lacks commodity exposure, but has very low counter party risk.
Payout Profiles: High-Yields, Safe Payouts, And Market-Crushing Total Return Potential
| | | | | | |
| --- | --- | --- | --- | --- | --- |
| Stock | Forward Yield | 2017 Payout Coverage | Projected 10 Year Payout Growth | 10 Year Potential Annual Total Returns | Risk-Adjusted Total Return Potential |
| Enbridge | 6.6% | 1.53 | 6% to 8% | 12.6% to 14.6% | 17.8% to 20.6% |
| Spectra Energy Partners | 7.7% | 1.2 | 4% to 6% | 11.7% to 13.7% | 17.7% to 20.8% |
| S&P 500 | 1.9% | 2.0 | 6.2% | 8.1% | 8.1% |
Sources: Gurufocus, FastGraphs, Management Guidance, Ycharts, Multpl.com, CSImarketing
My portfolio's goal is to maximize safe income and long-term payout growth. This is why I am careful to check the distribution profile of any investment I'm considering. This consists of three parts: yield, payout safety, and long-term growth potential.
Both Spectra and Enbridge are offering mouth watering valuations, especially compared to the market's paltry yield. More importantly both dividends/distributions are low risk, thanks to being well covered by extremely secure and predictable cash flows.
Of course as Kinder Morgan (KMI) taught us during the oil crash, too much debt can still kill a payout even if it's covered by cash flow, (Kinder's payout ratio was 1.07 at the time of the cut).
| | | | | |
| --- | --- | --- | --- | --- |
| Stock | Forward Debt/ EBITDA | Interest Coverage Ratio | Debt/Capital | S&P Credit Rating |
| Enbridge | 5.0 | 4.7 | 48% | BBB+ |
| Spectra Energy Partners | 4.0 | 8.3 | 39% | BBB+ |
| Industry Average | 4.5 | 4.5 | 52% | NA |
Sources: management guidance, earnings releases, FastGraphs, Gurufocus
Fortunately both Spectra and Enbridge have very strong balance sheets. Now it is true that Enbridge has had too much debt in the past. That was to fund things like the Spectra Energy purchase.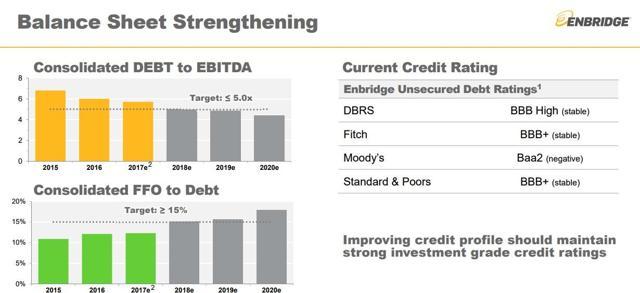 Source: Enbridge Investor Presentation
However, management has been aggressively bringing that ratio down, and plans to achieve a leverage ratio of 5.0 in 2018. Meanwhile the extra cash flow from its $17.6 billion in new projects will lower the company's leverage ratio to 4.5 by 2020. That should maintain Enbridge's strong credit rating, which is tied with Spectra, Enterprise Products Partners (EPD), and Magellan Midstream Partners (MMP) for the highest in the industry.
Meanwhile Spectra Energy Partners has a very strong balance sheet thanks to management's conservative approach to debt. The MLP wants to maintain a long-term leverage ratio of 4.0 or below. That's far below its credit covenant requirement of 5.0 or less.
The bottom line is that both Enbridge and Spectra offer very generous, highly secure, and steadily growing payouts. Better yet their stable business models mean they are far less volatile than the market over the long-term. Specifically Enbridge and Spectra have been 29% and 35% less volatile than the S&P 500 over the last five years.
This means that on either a total return or risk-adjusted total return basis, (total return/5 year beta), both midstream stocks offer market-crushing total return potential.
Valuation: Price That's Totally Disconnected From Great Fundamentals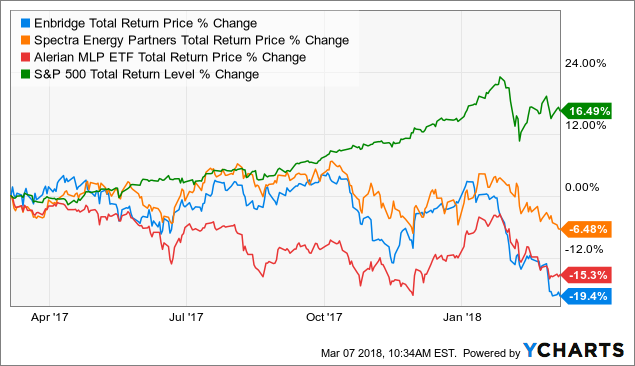 ENB Total Return Price data by YCharts
The market hasn't been kind to MLPs over the past year, not even blue chips like Enbridge and Spectra. Both stocks have badly underperformed the red hot S&P 500. However that is precisely the time when value investors like me are most excited.
| | | | | |
| --- | --- | --- | --- | --- |
| Stock | P/DCF | Yield | Historical Yield | Percentage Of Time Yield Has Been Higher |
| Enbridge | 11.1 | 6.6% | 3.2% | NA |
| Spectra Energy Partners | 13.6 (post IDR conversion) | 7.7% | 5.4% | 3.8% |
Sources: earnings releases, Gurufocus, Yieldchart
That's because we know that the best time to lock in strong future gains is when a sector is most out of favor. That's especially true if the fundamentals are strong and rising, yet the share/unit price is headed in the opposite direction.
In this case both Enbridge and Spectra are trading at attractive levels. That's both on a price/DCF basis, but especially true if we compare each stock's yield to its historical norm. For example since its IPO Spectra Energy Partners has only offered a higher yield 3.8% of the time. And Enbridge's yield hasn't been this high since 1994!
Let that sink in for a second. Today Spectra and Enbridge are trading at yields equal to or higher than during both the worst oil crash in over 50 years, and the financial crisis. Those were times when it seemed like the entire shale industry might go bankrupt, or the entire global economy might implode. In other words, these valuations make no darn sense!
But of course there is a limit to the usefulness of backwards looking valuation metrics. That's because all distributions and profits are earned in the future. Which is why I like to use a long-term (20 year) discounted distribution model to estimate the fair value of a stock. One based on the net present value of future distributions, which is ultimately the definition of intrinsic value for an income stock.
| | | | | | | |
| --- | --- | --- | --- | --- | --- | --- |
| Stock | Forward Payout | Projected 10 Year Payout Growth | Projected Payout Growth Years 11-20 | Fair Value Estimate | Payout Growth Baked Into Current Price | Discount To Fair Value |
| Enbridge | $2.07 | 6% (conservative case) | 5% | $36.20 | 3.1% | 12% |
| | | 7% (likely case, analyst consensus) | 6% | $39.06 | | 19% |
| | | 8% (bullish case) | 7% | $42.25 | | 25% |
| Spectra Energy Partners | $2.95 | 3% (conservative case) | 3% | $62.81 | -18.0% | 39% |
| | | 4% (likely case, analyst consensus) | 3% | $65.15 | | 41% |
| | | 5% (bullish case) | 4% | $68.40 | | 44% |
Sources: Gurufocus, Fastgraphs, Management Guidance
I use a 9.1% discount rate because since 1871 that's the total return of a S&P 500 ETF, net of expenses. Since a low cost S&P 500 ETF is considered by many to be the best default investment option, I consider this the opportunity cost of money.
Now, of course, no 20-year DCF model will be perfect since it requires an educated guesstimate of future smoothed out payout growth rates. This is why I used what I consider to be a reasonable range of potential growth rates to approximate the fair value of a stock.
In this case I conclude that Enbridge and Spectra are about 19% and 41% undervalued, respectively. Enbridge appears to be pricing in an overly conservative 3.1% dividend growth rate over the next 10 years. Given management's track record of hitting its guidance, and its enormous shadow growth pipeline, I consider this a very low bar to clear.
Spectra Energy Partners appears to be pricing in a ludicrously pessimistic -18% annual payout growth rate. Or to put it another way, Spectra's unit price only makes sense if you expect the distribution to be 86% lower in 2028. Given Spectra's pristine track record on payout growth, super conservative business model, strong growth prospects, and fortress-like balance sheet, this seems highly unlikely.
Basically both Enbridge and Spectra are now trading at ridiculously low valuations that have no connection to each of their strong and growing fundamentals. This makes them some of the best low risk, high-yield investments you can make in this otherwise overvalued market.
Risks To Consider
First there are some tax complexities that all prospective investors need to keep in mind. Spectra Energy Partners as an MLP does issue K1 forms, which is something that some investors wish to avoid due to the added tax preparation complexity. The good news is that Turbotax can handle a K1 in about two to three minutes.
However, be aware that MLPs can generate something called unrelated business taxable income or UBTI. If your portfolio's total UBTI is over $1,000 in a given year, then you have to report this to the IRS and pay taxes on it. That's even in an IRA. This is one of the reasons that it's recommended you own MLPs in taxable accounts.
Meanwhile Enbridge, as a Canadian c-Corp, pays qualified dividends, and uses a 1099 form. However in taxable accounts there is a 15% withholding applied to dividends. This doesn't occur in retirement accounts.
The good news is that US investors are allowed a foreign dividend tax withholding credit, up to $300/$600 (individual/couple). That means that most investors will be swapping paying the IRS for paying the Canadian government. Thus for most investors there is no tax penalty for owning Enbridge.
However because Enbridge pays the dividend in Canadian dollars there is some currency risk. Specifically if the US dollar strengthens against its Canadian counterpart then your effective dividend will be reduced.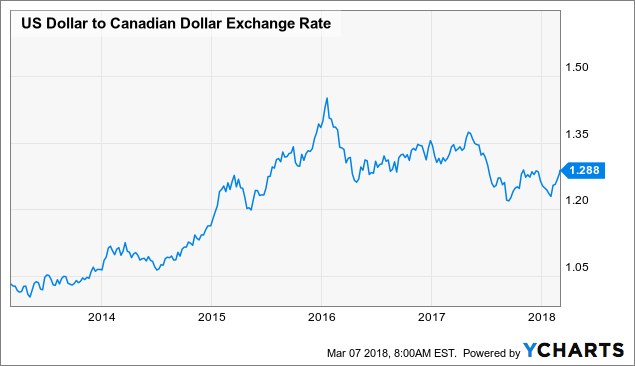 US Dollar to Canadian Dollar Exchange Rate data by YCharts
Recently the USD has been strengthening against the CAD. If US interest rates keep rising faster than Canadian interest rates, this trend might continue. Fortunately currency fluctuations tend to be cyclical and mean reverting meaning that the greenback shouldn't end up rising too much higher against the loony.
What about risks to the businesses themselves? Well there are three main ones, which can be classified as short, medium, and long-term risks.
In the short-term all midstream operators face similar issues. Specifically that the same high regulatory burdens that give them a wide moat, can also slow down or even cancel growth projects.
That's because major pipelines run through numerous states, and sometimes across national borders. Thus they require the approval of numerous local, state, and federal regulators. Recently the Minnesota Public Utility Commission rejected Enbridge's environmental impact study pertaining to a 340 mile section of its $6.5 billion Line 3 replacement project.
While the project is expected to eventually be completed management has stated that it might be delayed one year, going into service in Q3 2019 instead of Q3 2018.
In addition, accidents or mere regulatory meddling can lead to temporary shutdowns in pipelines. For example Michigan regulators are recommending a temporary shutdown of Enbridge's line five pipeline for increased safety evaluations.
Remember that management guidance, both about cash flow growth and the funding status, are based on expectations that projects are completed on time, and on budget. However, now that the Trump administration is proposing 25% steel tarriffs, this could increase the average pipeline project's cost by $76 million, and for larger projects up to $300 million or more.
Add in the potential for project start dates getting pushed back and you have the potential for cash flow growth, (and payout growth), to miss management targets. And don't think it's just US regulators causing headaches for pipeline companies. One of Enbridge's largest service areas is the Athabasca oil sands region of Alberta, Canada.
Alberta regulators recently announced new emission rules that have a goal of reducing the province's CO2 emissions 19% by 2030. Since oil sands generates 20% of Alberta CO2 emissions this means that large oil producers in the region are likely to face carbon taxes that could make future investments less economical. That in turn could reduce future demand for additional midstream infrastructure.
Then in the medium-term there's the risk of volatile energy prices. While Enbridge and Spectra have essentially no direct exposure to commodity prices, their long-term growth potential can certainly be impacted.
That's because both stock's growth backlogs and payout guidance extends only three years. Beyond that strong growth relies on management's "shadow pipeline". But that requires Enbridge to be able to obtain enough long-term contracts from customers to warrant breaking ground on new investments.
Should North American energy production suffer due to a sudden oil/gas price collapse, (such as during a recession), then demand for new midstream infrastructure might end less than expected.
Which brings us to the long-term risks for these, and all midstream stocks. Specifically that the optimistic forecasts for North American oil & gas production fall flat.
After all no forecast is perfect, and must be made assuming many different unpredictable variables. For example the EIA and IEA production models project a very gradual transition from fossil fuels to renewable energy and EVs.
However should that transition be quicker than expected then the growth runway for the midstream industry could prove far shorter than investors expect.
For example, analyst firm McKinsey is very bullish on energy companies. They expect that 74% of all global energy will still come from oil & gas by 2050, compared to 82% today. However, even these analysts warn that the current trend of EV adoption might mean that global oil demand peaks as early as 2030.
Bottom Line: Don't Pass Up This Amazing Opportunity To Own These 2 Low Risk, High-Yield Industry Blue Chips
Don't get me wrong, I have no idea when these two stocks will bottom. What I do know is that their fundamentals are strong, and getting stronger. And with the enormous industry growth opportunities likely coming down the pike over the next decade, I expect both Enbridge and Spectra Energy Partners to continue delivering generous, safe, and steadily growing income.
And while the market can remain highly irrational in the short-term, in the long-term the rising intrinsic values of both of these midstream giants is likely to generate very strong, market beating total returns. This is why I have no qualms about strongly recommending that you consider both stocks for a position in your diversified high-yield portfolio.
Disclosure: I am/we are long ENB, SEP, EPD, MPLX.
I wrote this article myself, and it expresses my own opinions. I am not receiving compensation for it (other than from Seeking Alpha). I have no business relationship with any company whose stock is mentioned in this article.